Priority for key workers
Vesteda is committed to helping people with a social profession, a.k.a. key workers, find affordable housing in their own preferred city. We believe it is important for people with social professions, such as nurses, teachers, police officers and firefighters to remain within the city. We do our best to help prospective tenants with these key professions find affordable rental housing.
Who are keyworkers?
You will be given priority if you have a permanent contract or annual contract for at least 28 hours and key worker status:
• In health care as: a licensed nurse, caregiver who is a residential supervisor, family coach or youth manager, supervisor for the disabled, doctor, pharmacist or surgery assistant, general practitioner or nurse anaesthetist.
• As a licensed teacher in primary or secondary (including special) education.
• As a police officer who is operational in one of the ten regional units, the central unit, the police academy, police services centre, or national dispatch centre.
• As a firefighter who is operational in the Dutch Fire Service, such as a regional fire station.
A private sector rental property must be and remain affordable for people seen as key workers. So a good match between your housing needs, your budget and the rental price is important.

Good news: you may include your irregular working hours allowance in your monthly income.
Please note that we calculate on the basis of an annual average. Read a detailed explanation of our income requirements on our website.
Priority project de Aker, Amsterdam
Many people struggle to find affordable housing in Amsterdam. Among Amsterdam's house hunters are many key workers: teachers, care workers and police officers.
Because of their profession, it is important that they can live near their workplace. We would like to help them find affordable housing in their own city.
All key workers will have priority in securing affordable housing in the Middenveldse Akerpolder in Amsterdam Nieuw West.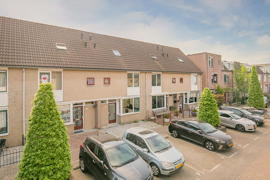 Interested?
Register for an available home in De Aker through our website. Request a viewing and submit the requested documents. Such as a permanent employment contract or a temporary contract of at least 28 hours a week for a minimum of 1 year. Of course all other (income) criteria for these houses must also be met. These criteria are listed in the advertisement of the house on our website and in our rental conditions. It is unfortunately not possible for existing tenants to propose their own potential tenants for these properties.
Interested?
Interested in a rental apartment in the Aker? View the current housing offer and register online.
Priority for key workers in the Cavaliere
In our newly built project the Cavaliere in Helmond, people with key occupations will have priority in housing allocation.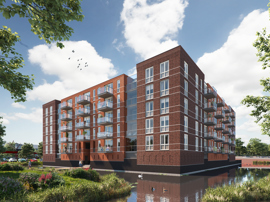 Priority for key workers in the Regent
In de Regent in The Hague, key workers will have priority in housing allocation.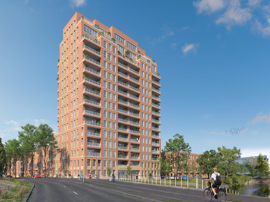 Frequently asked questions
Priority for key workers
What conditions must I meet to rent a home from Vesteda?

Have you found a great home on our website? Then of course you want to qualify for it. But it is important that you meet our rental conditions and income requirements.

Take a look at our rental conditions .
Read all about our income requirements.
Also take a look at our general conditions. These can be found in the 'Guide to renting' brochure.

If you satisfy all conditions, this ensures us that we have good tenants, and that our tenants have good neighbours.
I have requested a viewing but I haven't heard anything. How come?

We need a maximum of 10 working days to process your viewing request. You will receive a reply from us within these 10 working days.
I work in health care for 16 hours a week. Do I qualify for a house in the Aker in Amsterdam?

You must meet our income requirements. These criteria are listed in the advertisement of the house on our website and in our rental conditions. In addition, if you have a temporary contract for at least 1 year, you must work at least 28 hours per week.