Priority for key workers
Vesteda is committed to helping key workers find affordable housing in their own preferred city.
Priority project de Aker, Amsterdam
Many people struggle to find affordable housing in Amsterdam. Among Amsterdam's house hunters are many key workers: teachers, care workers and police officers.
Because of their profession, it is important that they can live near their workplace. We would like to help them find affordable housing in their own city.
For this reason we are starting a pilot.
In 2022, all key workers will have priority in securing affordable housing in the Middenveldse Akerpolder in Amsterdam Nieuw West.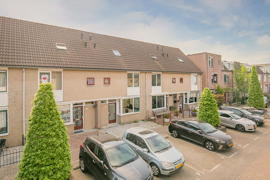 Who are the keyworkers?
The municipality of Amsterdam has published a list of professions that fall under the term "keyworker": teachers in primary (special) education, teachers in secondary education (first or second grade), nurses, carers, family coaches for young people, counselors in care for the disabled, doctors, pharmacists and surgery assistants, nurse practitioners, nurse anesthetists and police officers. This list may, of course, be modified over time.
Interested?
Register for an available home in De Aker through our website. Request a viewing and submit the requested documents. Such as a permanent employment contract or a temporary contract of at least 28 hours a week for a minimum of 1 year. Of course all other (income) criteria for these houses must also be met. These criteria are listed in the advertisement of the house on our website and in our rental conditions. It is unfortunately not possible for existing tenants to propose their own potential tenants for these properties.
Interested?
Interested in a rental apartment in the Aker? View the current housing offer and register online.
Frequently asked questions
Priority for key workers
What conditions must I satisfy to be eligible for a Vesteda rental property?

Have you found your dream home on our website? If so, you'll want to do everything you can to be selected. All Vesteda tenants must satisfy a number of conditions. 

Take a look at our rental conditions here.

If you satisfy all conditions, this ensures us that we have good tenants, and that our tenants have good neighbours.
I have requested a viewing but I haven't heard anything. Why is that?

We process requests for a viewing within a maximum of 10 working days. You receive an answer from us within this period.
I work in health care for 16 hours a week. Do I qualify for a house in the Aker in Amsterdam?

You must meet our income requirements. These criteria are listed in the advertisement of the house on our website and in our rental conditions. In addition, if you have a temporary contract for at least 1 year, you must work at least 28 hours per week.