Our purpose
Vesteda invests the pension and insurance premiums of institutional investors, such as pension funds and insurance firms, in sustainable Dutch residential properties. Vesteda focuses primarily on middle-income tenants. This is how Vesteda contributes to future income-security for pensioners by offering a return on their invested capital. Vesteda also provides middle-income families in the Netherlands with access to affordable housing and works on the continuous improvement of the quality of residential areas and communities.
Our mission
Our motto 'At home with Vesteda' applies to our tenants, the investors (participants) who invest in our fund and all the people who work at our company. Our mission is to ensure that our main stakeholders feel at home with Vesteda.
Our vision
Vesteda is the expert in residential real estate. We are in direct contact with our tenants. This is why we know their current and future living needs like no other. We use our know-how to constantly improve our services and our existing residential portfolio. And we add residential complexes that meet the living requirements of our tenants, now and in the future. And we do all of this in a sustainable and innovative fashion. Together with our tenants, we are creating an environment in which they feel at home.
Value creation model
Our value creation model centres around our mission: ensuring that our stakeholders feel at home with Vesteda. This means we offer our tenants high-quality housing at affordable prices. We also want to offer our investors (participants) an attractive risk/return profile. And for our staff members, we want to be an organisation where people like to work.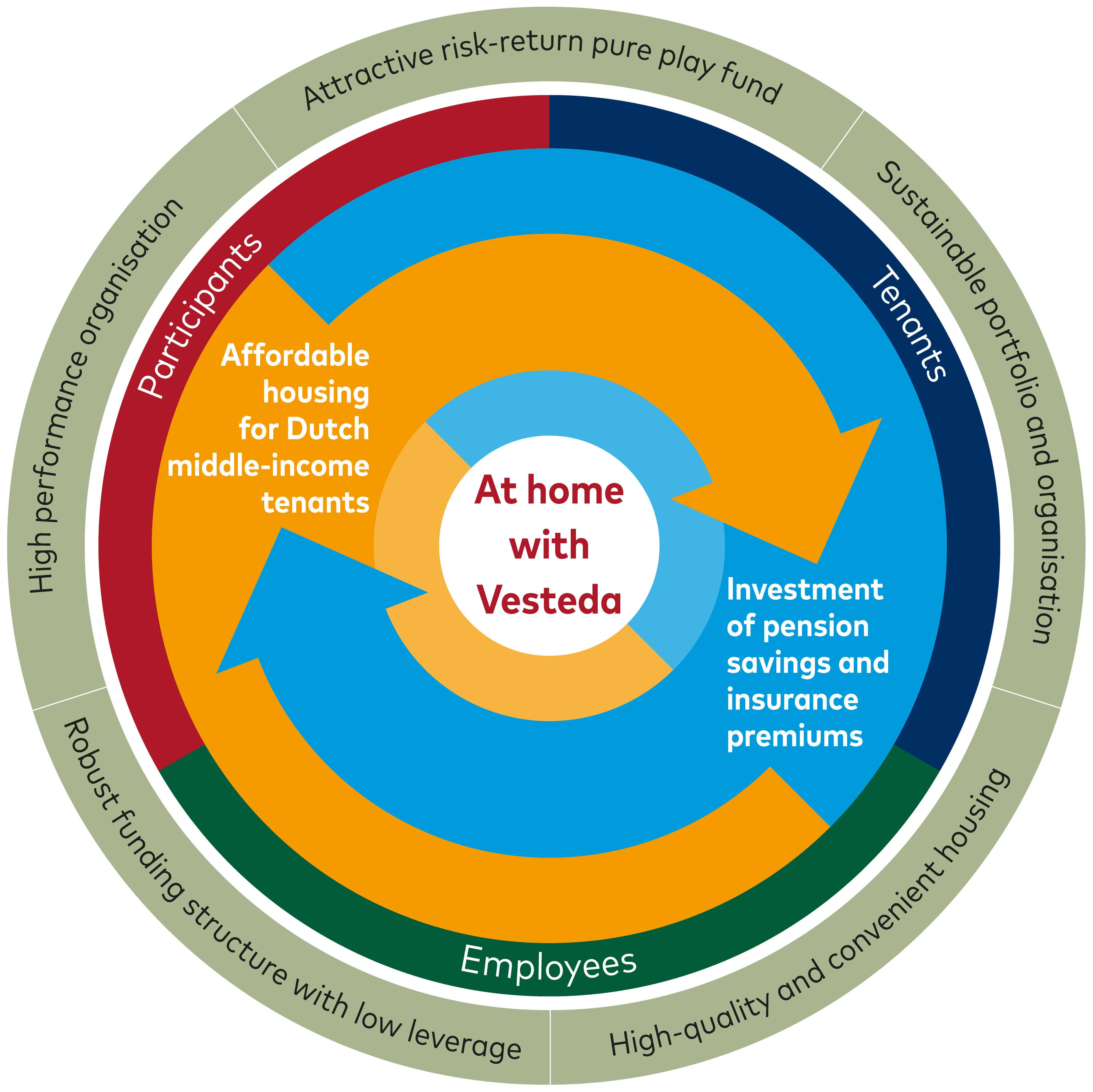 Our portfolio is one of the main strategic pillars in the realisation of the above goals. We constantly strive to improve the quality and sustainability of our portfolio. This is the secret of our success in terms of safeguarding stable growth in rental income and MSCI outperformance. The second major pillar is our service-centric organisation, which is backed up by smart technology. The final pillar is our financing. We use our financing structure and low leverage to keep our financing costs as low as possible.