Quality and affordability
Vesteda invests the funds of pension providers in sustainable, high-quality homes in the mid-segment of the Dutch rental market. We are long-term investors and want to be engaged in neighborhoods and areas on a long-term basis. We focus on large and smaller cities in the Netherlands and the easily accessible towns and villages in the peripheral areas around these cities. Vesteda chooses quality and affordability as a basis for sustainable value growth. We acquire energy-efficient houses and apartments that make for pleasant and healthy homes and that add value to the surrounding area.
Our focus
Municipalities in the Randstad urban conurbation or mid-sized cities in other regions of the Netherlands
Locations that are easily accessible by public transport where cities are expanding
Government-regulated mid-segment or fully liberalised sector rental homes (rent up to EUR 1,200)
Projects from around 40 homes with no upper limit
Compact houses (around 100-130 m²)
Apartments with 2, 3 and 4 rooms (around 55-100 m²)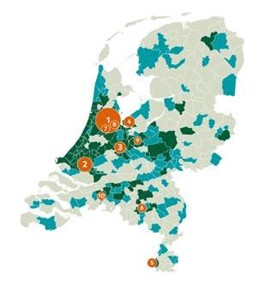 Collaboration with Vesteda
Collaboration with Vesteda offers numerous benefits, whether this involves new or existing residential projects. Interested? Get in touch today.