At home with Vesteda
Vesteda invests in homes for middle-income tenants. We want tenants to truly enjoy renting a home from Vesteda for their entire lives. Our rental properties are mainly located in economically strong areas and metropolitan regions.
Our ambition is to be the best landlord in the Netherlands. Our aim is for tenants to feel at home with Vesteda. We are well aware of the fact that affordability is under pressure for many households and we have therefore chosen to cap our annual rent increases.
In addition to affordability, the quality and sustainability of our homes are also important factors. As are innovations that help to keep maintenance costs and housing costs as low as possible. These are all factors that have a major impact on people's enjoyment of their homes.
In short, our policy means:
A lifetime of enjoyable renting from Vesteda for anyone who is looking for an affordable high-quality home in the mid-rental segment;
A varied portfolio of homes in and around all small and large cities in the Netherlands;
Vesteda focuses on healthy living
Aan de Rijn in Arnhem was the first residential complex in the world to be awarded a WELL certificate after being taken into use. The WELL Building Standard was designed to measure, certify and monitor the features of a building that affect the health and well-being of its users. This means the building has been structured and designed in such a way that its residents can live there healthily and sustainably.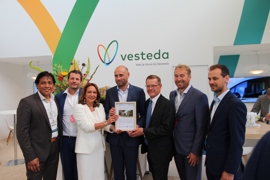 WELL Building Standard voor the Aan de Rijn project
The residential complex is equipped with extremely good ventilation systems that ensure that the air quality in the homes is always excellent. We also use our own measurement station to monitor air quality and use the result to advise residents to open the window when the outside air is healthy. We also improved the entrance to the complex, using natural colours and materials and providing information for tenants on healthy living and the residential complex. The entrance area has been planted with edible plants, and provides tenants with information about activities in the neighbourhood.