Sustainable core values in practice
Below you will find a number of examples of how Vesteda applies its sustainable core values in its operations.
Project Diepstroeten: sustainable, zero-on-the-meter homes
Vesteda delivered 45 sustainable and highly energy-efficient homes in the Diepstroeten new-build neighbourhood in Assen. These homes are very pleasant to live in, but they are also so energy efficient that the tenants no longer have any energy bills. These highly-insulated homes generate all the energy they need.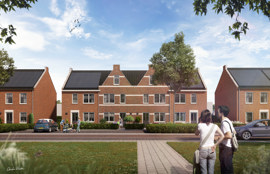 Collaboration with the Dutch society for the protection of birds
Vesteda and the Dutch bird protection society Vogelbescherming Nederland have forged a partnership to improve the living environment for birds and people. After all, urban areas often lack space for greenery. Vogelbescherming Nederland advises Vesteda on how to make adaptations in renovation and new-build projects. We hope this will help us make the right choices and increase the sustainability of our residential portfolio, while respecting local flora and fauna. Vesteda's new tenants also receive a welcome package with bird-friendly gifts for their garden or balcony.