Team Acquisitions & Development
" Every transaction is the best reason to team up for the next transaction."
What collaboration with Vesteda means for you:
A clear proposal or clearly substantiated rejection within a matter of days
A small, enterprising team of professionals that remains your point of contact through to delivery
Pleasant and professional processes, with the same in-house professionals at the table, who improve your project and ours
Added value in the design process thanks to our many years of residential expertise and unique in-house property management
Attention for both your interests and ours, and a continuous search for the solution to make it work
The same level attention devoted to both smaller and large transactions, in the interest of our tenants
Competitive prices and realisation without external (bank) financing
Leidsche Rijn Centrum: Long-term collaboration
After more than 10 years of collaboration in sharply fluctuating market conditions, the development combination of a.s.r. and Vesteda are now close to completing the largest construction project in the Netherlands. Vesteda has now taken delivery of a total of 440 rental homes and the final sub-phase of the project is currently in development.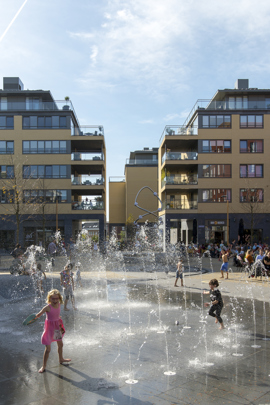 Heijmans: Continuity through benefits of scale
Heijmans and Vesteda have signed a turnkey agreement for the development and realisation of 258 houses and 119 apartments in various projects. Heijmans will realise the homes for Vesteda in the period 2018 to 2020 as part of projects in Berkel Enschot, Culemborg, Gorinchem, Pijnacker, Voorhout (municipality of Teylingen) and Zutphen. A total of 90% of the homes will be in the mid-segment of the market, while 10% will be in the government regulated segment.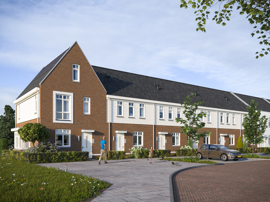 "Because of the short communication lines and mutual clear objectives enable us to act decisively with Vesteda. Vesteda's long-term vision of its real estate investments is reflected in the relational atmosphere. Continuity of cooperation is held in high esteem, and that fits in well with the method of cooperation that we as Heijmans advocate".
The Ox Amsterdam: Tailor-made affordability and feasibility
Vesteda acquired new-build development The Ox in Amsterdam from construction firm and developer Van Wijnen. At the same time, NSI N.V. sold the existing office building to Vesteda. The Ox will comprise 168 high-quality apartments with parking spaces beneath building. The project will be largely rented out to key workers with a middle income. The starting rents and rent increases for most of these homes are regulated for a prolonged period.